Mr. Husband and I were at the feast day liturgy on Thursday.
As it is a high feast day, we had a lovely
fish curry at our favourite Thai place
on the way home..
(during the nativity fast if health permits
no meat is eaten during the Nativity Fast but the big
feast days are fish days).
Yesterday I got our new Christmas tree up.
We have very few ornaments for it so I used
red and gold ribbon with the white lights
I ordered. Am quite pleased with it!
Cleo meows at it at times but
thus far has obeyed my instructions
to stay off it at all costs.
:) She loves sleeping on that chair...
*
A sad thing in terms of gifts.
I found this made in England water pitcher for a dear friend: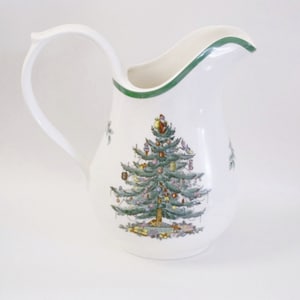 But a sadly significant mistake was made in
the packaging and it arrived like this:
It was to be a surprise St. Nicholas day gift.
It was a vintage Christmas Tree Spode made in England
water pitcher to add joy to the Christmas table...
(They are now not made in England but made in China or Malaysia and
quite inferior not to mention worries of lead from things made there).
I got a decent apology & am promised a full refund but boy,
how disappointing!
*
Well, while I would not of made the packing mistake,
I broke something too this week...
After deciding to give away a cute bowl set,
I dropped the spoon and fork and the handles
you see here were shattered.
*
These things happen.
*
but it's too late for me to get them this year,
and the shipping was going to be
terribly exorbitant.
I really want them one day, the made in England ones.
Another year.
*
All these things are giving me food to thought,
about how we can try so much to make something beautiful,
to make the feast of Christmas a true day of beauty and joy,
celebrating the greatest news the world has ever heard,
Christ born on Christmas day....
yet so many are in such pain even on Christmas...
*
Sadly in our broken world only the Feast of Christmas itself
is perfect...
I can't help but thinking of all the people struggling at this time.
Yet God is with us
and came to live with us and dwell with us
on Christmas day.